Instant hot water & boiling water tap installation in Ruislip, Harrow, Hillingdon.
What is so good about an on-demand boiling water tap? How does instant boiling, filtered, mains hot and cold water from one tap sound? It sounds like a real time-saver to me.
You may have seen an advert showing an instant boiling water tap and are interested in having one installed, and our plumbing engineers are on hand to help 24/7.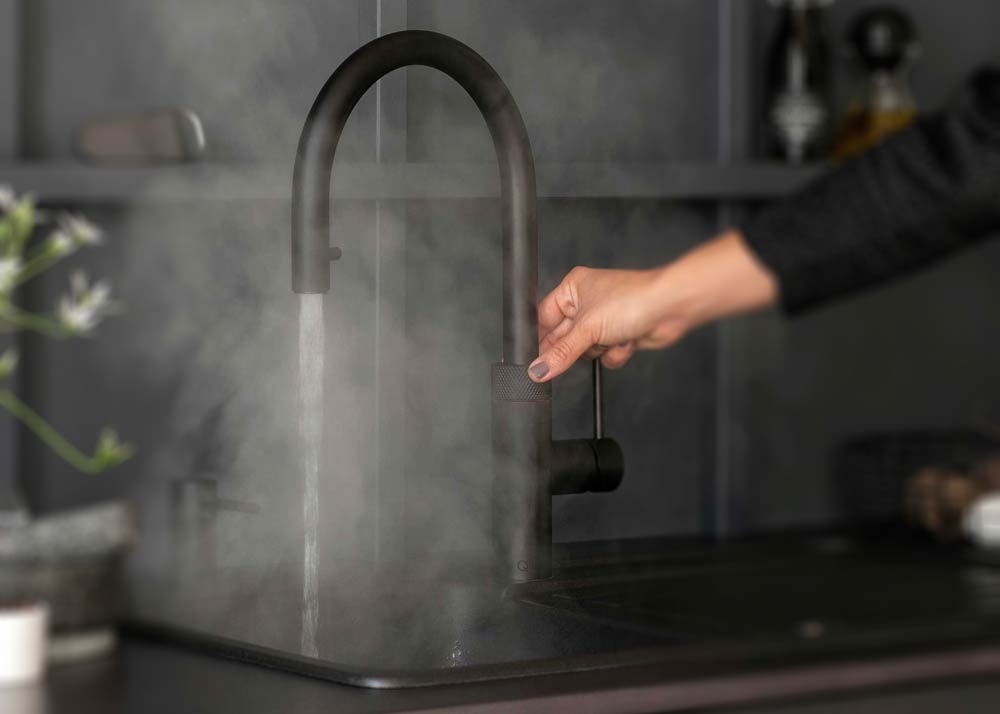 Quooker tap image © Quooker
Give us a call today, and we can get your new tap installed at any time of day to fit your busy schedule.
How do boiling water taps work?
The taps provide instant on-demand boiling water and cold filtered water while also providing normal hot and cold water from the same faucet. An instant hot water tap makes everything simpler, from making coffee and tea to starting a pan of water on the stove.
How is this possible?
Well, with some clever design and engineering. A standard mixer tap has a hot and cold feed, whereas most new boiling water taps have four feeds. They also have a special box under the sink that boils and delivers the boiling water to the faucet. A water filter filters the water too, which means you have perfect water every time.
Boiling water tap brands
There is a range of boiling water taps on the market, and we go over a few below. Then our instant hot water tap installation service can help set it up.
Quooker tap installation
The Quooker boiling water tap has been advertised a lot on TV recently, which has spurred a new interest in on-demand boiling water taps. They provide instant on-demand boiler water, as well as cold filtered water. Mains pressure hot and cold water. All from the same faucet.
Quooker is known as the world's first boiling water tap and was invented in 1970 by Henri Peteri.
Qettle Installation
QETTLE is a British company that is part of Greg Rowe Limited, a family business that has lived and breathed kitchen taps for two generations.
Etal instant hot water kitchen tap
Etal is an affordable hot water tap brand with many styles that should fit almost any kitchen.
Swirl water boiler tap installation
Swirl is probably the most affordable brand if you're looking to ditch your kettle in favour of a hot water tap. However, there is a limited range of choices if you want your tap to fit with your design choice.
InSinkErator instant boiling water tap installation
InSinkErator is famous for its in-sink waste disposal units, but they also make boiling water taps. Here, you can find the same quality you've expected from the waste disposal unit.
Redring Reditap Installation
Redring is known for showers, heating and water boilers, so you know they know a thing or two about boiling water. The RediTap is their answer to on-demand boiled water.
Grohe Red DUO boiler tap
If you have the money to spend, you can't go wrong with Grohe. Starting at £1499, it is one of the more expensive taps on the list.
Bristan rapid boiling tap
Bristan is an excellent mid-priced tap, and some models come with a five-year manufacturer's warranty (with registration) which puts it among the best out there.
Wodar Boiling Water Tap Installation
Wodar taps have exciting designs, so if you want something different, you should check them out.
Remember, we can install more than just instant hot water taps; we can install all hot and cold taps, kitchen taps, basin taps, bath taps and more.
Domestic and commercial services in Harrow and surrounding areas
We offer both domestic and commercial services in Harrow 24-hours a day, so we are available when you need us.
Home Installation
Maybe you want help outside of the standard 9-5. and it would be better to fit around the school-run or dinner time. That's why we are a 24-hour service provider.
Commercial Installation
We work 24/7 so that we are available at a time that suits you - early or late - or a time that will have the least impact on your commercial operations.
Excellent Service
We have been working in London and Harrow for many years, and have hundreds of happy customers - you can check out our reviews. We pride ourselves on our professional and reliable service, that also remains affordable for everyone.
Your Local Plumber
Emergency Plumbers 365 can guarantee a 1-hour rapid response time. EP365 is situated in the Harrow area and we also cover Arnos Grove, Barnet, Belmont, Borehamwood, Bushey, Colindale, Denham, Edgware, Enfield, Finchley, Golders Green, Harrow, North Harrow, South Harrow, Hatch End, Hayes, Hendon, Highgate, Hillingdon, Ickenham, Kenton, Kingsbury, Mill Hill, Muswell Hill, Northolt, Northwick Park, Northwood, Perivale, Pinner, Potters Bar, Preston, Queensbury, Radlett, Rayners Lane, Rickmansworth, Ruislip, Shenley, Southgate, Stanmore, Totteridge, Uxbridge, Watford, Wealdstone, Whetstone, Winchmore Hill, Woodside Park, and all of those surrounding areas in Middlesex and the Hillingdon Borough. For those unexpected boiler repair or maintenence emergencies, our fully trained, qualified and certified engineers are on standby 365 days a year.
Read More
Specialised Plumbing & Heating Services in Harrow. 365 days a Year.
All of the work our experienced plumbing engineers carry out is fully guaranteed. We have many satisfied customers and offer an efficient, professional, friendly, and affordable service. 24 hours per day, 7 days per week, 365 days per year. Becuase we know, a plumbing emergency can happen at any time, and we are here to help when you need us.
EP365 always strive for total customer satisfaction. Our customers will return to us time and time again because they can trust the services we provide. Not only do our customers stay with us, but they also help us spread the word to their relatives, friends, and business colleagues. That's why we aim to be the best.
Below are a few of the services we offer in Harrow, Middlesex and across West London.
24/7 call out in Harrow and West London
Our vans are fully stocked and prepared for any emergency. Based in the Harrow area so that we can respond quickly when you need us whatever your plumbing crisis may be.
In fact, at Emergency Plumbers 365 we are so confident of our ability to get to you in an emergency that we offer an 'aim for an hour' response time. So you can be sure that we will get to you quickly and efficiently when it really counts.
Emergency Plumbers 365 provide outstanding plumbing and heating services in Harrow and across London. Whether you are a domestic customer or business. This is why we are the first choice for our customers. Feel safe in our hands with the knowledge that our engineers can assist you with your issue. Whether the issue is plumbing, heating, gas and drainage, we can help at any time of day 365 days a year.
NO JOB TOO SMALL
On smaller jobs, our plumbers and heating engineers simply charge an hourly rate so you can get an affordable plumber to resolve your plumbing and heating issue quickly. Our friendly staff will be happy to discuss your requirements with you by phone, so get in touch and see how we can help.
Here to help 24/7/365
We pride ourselves on a fast response at any time of the day, we work 24/7 365 days a year because we know that plumbing emergencies can be distressing and can happen at any time. Let us help when you need it most. If you have a plumbing emergency, any time of day and any size job, big or small - we are here to help.
Central Heating Systems
Our heating engineers can take care of all aspects of central heating systems. Boilers to water tanks, to the radiators themselves. As we are Harrow based, when you need us, we can be with you and have the problem fixed, quicker, cheaper and more easily that you can imagine.
Boiler Servicing & Repairs
Our engineers cover all types of boiler and gas work, whether it is a gas leak, relocating pipes, installing new systems, managing breakdowns or providing you with the peace of mind through an annual gas safety certificate.
Bathroom Services
We offer affordable plumbing solutions for your larger projects, such as plumbing and installing an entire bathroom or part of it. Our friendly, reliable staff are happy to help and offer great rates on both smaller one-off issues and larger projects.
Plumbing Services
Our capable, qualified engineers are able to provide a full plumbing service 24 hours a day, 7 days per week. No matter the type of issue! From a leaking pipe to a complete bathroom renovation or installation, and everything between. No job is too big or too small.